IMCA 3-Piece PINTO Spindle for GM Metric 79-UP Chassis PAIR (Left and Right)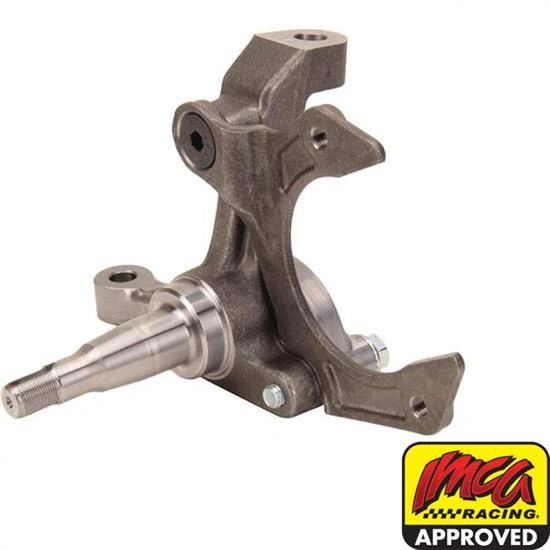 IMCA 3-Piece PINTO Spindle for GM Metric 79-UP Chassis PAIR (Left and Right)
3-Piece Pinto Replacement Spindle IMCA - PAIR both Left and Right  FREE SHIPPING!
3-piece Pinto replacement spindle to be used in conjunction with the 1979-up GM Metric front brake rotors, bearings and calipers. Our advanced engineering techniques allowed for a redesign of the spindle in a newly forged, heat-treated steel design that is both stronger and lighter than the original. These spindles serve as a replacement for cars currently running Pinto/Mustang II setups. The 8 degree pin inclination not only improves handling and driver feel, but also dynamically adds cross weight to the car during counter steering which leads to increased drive off the corner. The shortened, dropped steering arm reduces spacing requirements on outer tie rods and minimizes bump steer while improving overall strength.
Accepts '79-Up GM Metric rotors, calipers, stock tapered lower ball joints and is reamed to accept 7 degree upper ball joints. The unique three-piece construction provides for fast, convenient and affordable replacement of individual components in the event of a crash. These spindles are IMCA/USMTS/USRA approved for use in competition.

Kit includes spindle, bolt-on "short" steering arm, caliper bracket and necessary hardware. Assembly is required. Comes with 1 - Left Side, 1 - Right Side

Works great with our 1979-Up GM Metric front brake rotors, bearings, calipers, etc.
IMCA approved for IMCA Modifieds and Sport Mod divisions
USMTS/USRA approved
Forged, heat-treated steel
Improves front end geometry
Replacement for Pinto spindle
Three-piece design for quick, easy replacement

Reviews