Longacre SPORTSMAN 3 GAUGE PANEL OP, WT, & OT with warning lights 44414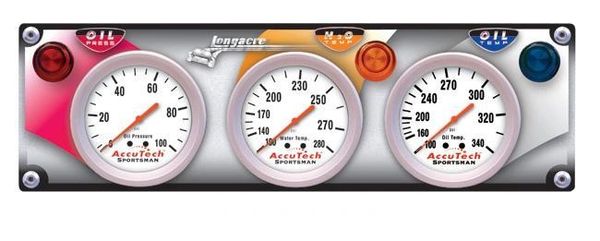 Longacre SPORTSMAN 3 GAUGE PANEL OP, WT, & OT with warning lights 44414
SPORTSMAN GAUGE PANEL Part#: LON-44414
Oil pressure, water temperature and oil temperature.

Description: This stylish three gauge aluminum Sportsman Gauge Panel from Longacre racing comes with an oil pressure, oil temperature and water temperature gauge. The oil pressure gauge ranges from 0 to 100 psi, the oil temperature gauge measures temperatures from 100 to 340 degrees and the water temperature gauge measures from 100 to 280 degrees. The panel itself is 11.5 inches wide by 3.5 inches tall and has three 2-5/8 inch backlit mechanical gauges. Each gauge has CNC machined brass gears and is pre-wired with "Fat" wiring and soldered heat-shrink terminals. Warning lights and all senders are also included.

Reviews