Longacre SPORTSMAN 2 GAUGE PANEL OP & WT with warning lights 44412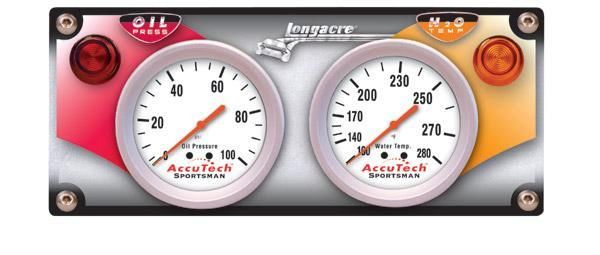 Longacre SPORTSMAN 2 GAUGE PANEL OP & WT with warning lights 44412
SPORTSMAN GAUGE PANEL  Part#: LON-44412
Oil pressure and water temperature

Description: This contemporary styled, dual gauge aluminum Sportsman Gauge Panel from Longacre racing comes with an oil pressure and water temperature gauge. The oil pressure gauge ranges from 0 to 100 psi and the water temperature gauge measures from 100 to 280 degrees. The panel itself is 8-1/4" wide x 3-1/2" tall and has two 2-5/8" backlit mechanical gauges. Each gauge has CNC machined brass gears and is pre-wired with "Fat" wiring and soldered heat-shrink terminals. Warning lights and all senders are also included.

Reviews