TRIPLE PASS ALUMINUM CHEVY STYLE RADIATOR 1" tubes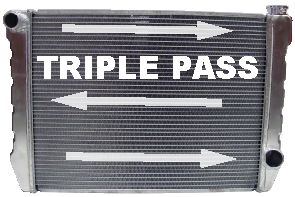 TRIPLE PASS ALUMINUM CHEVY STYLE RADIATOR 1" tubes
TRIPLE PASS ALUMINUM CHEVY STYLE RADIATOR
Sizes: 19X22, 19X24, 19X26, 19X28, 19X31

Description: Triple pass all aluminum racing radiators are designed to solve severe overheating problems on race car applications. Their unique design makes the coolant flow across the core and then back providing all the cooling capacity possible tripling the efficiency of the core size. Tubes designed for high pressure maximum cooling systems. Stamped and reinforced aluminum tanks for rigidity and durability. High capacity 1" aluminum tubes for greater cooling capacity. Solid design side channels and mounting flanges for maximum strength and ability to mount anywhere. Billet Aluminum filler neck for durability. Comes standard with 1-1/2" inlet and 1-3/4" outlet. Two Core. Works well with 1:1 pulleys.

Reviews